Admissions to the college are opened only once a year in class 7th under which the general conditions and schedule are detailed below:
Announcement: Admissions are announced every year in October in English and Urdu newspapers.
Cadet College Pushin Result 2023
Cadet College Pishin Entry Test 2023 (Class 7th) Result Declared Note: Enter 6 Digit Roll Number to Check Result. Result queries/complaints will be considered from 4th February 2023 to 8th February 2023.
Cadet College Pishin declared the result today to check the result.
Eligibility for Class VII:
A citizen of Pakistan is eligible to be eligible. Candidates must have passed 6th standard from a recognized school by March 2023. Age: Candidates age should be less than 11 to 13 years as on 31-March-2023, not a day more than this age.
Registration and Last Date:
Normal registration fee ie Rs. 2000/- upto 06 May 2023
Late registration fee ie Rs. 2000/- till last date of application: 06-05-2023
Entry Test Date: Will be held on 12 May 2023.
Prospectus and Admission Form for 7th Class:
College Prospectus and Admission Form are available at the following branches for Rs.500/-
Cadet College Pishin Admin/Registration Branch.
By Post Rs.600/-
Hello Stationery Shera Iqbal Quetta.
Bank Islami Jinnah Road, Quetta.
Bank Islami Pashin
AHMED STATIONERY Bacha Khan Road, Pashin.
Medical test and interview
Candidates who pass the written test are medically examined and interviewed.
Interview Board is constituted by Principal Cadet College Pishin.
The medical officer of the college conducts the medical examination as per the prescribed medical criteria.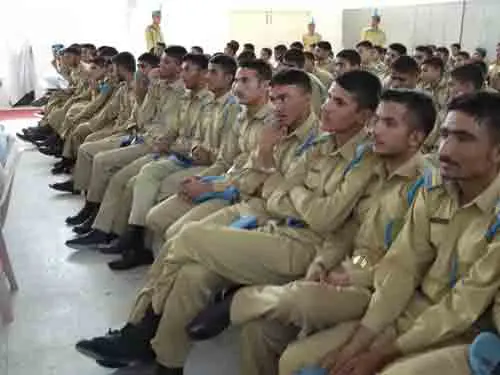 Registration:
Admission is restricted to 7th standard only.
Distribution of seats: Balochistan
Entrance Test Date: 12 May 2023
Other provinces
Seats of the Federal Government / As per the order of the Federal Government.
In case of non-availability of suitable candidate in a district, the vacancy will be filled up by the Division.
Entrance Examination (Class 6th Standards)
Selection is done through written test, intelligence test, interview and medical examination.
marital status – Not married
If a cadet marries for any reason during:
Stat If CCPN he will not be able to continue in CCPN. He will be given TC after paying the college dues. However, Colleges / Director Colleges Balochistan can help you get the college of your choice.
Admission to First Year:
The SOP (Standing Order Procedure) for re-admission will be as follows:
After the matriculation examination they will go back to their homes after proper clearance in the matriculation class.
After the declaration of matriculation results, the re-admission form will be sent to the matriculation candidates from CCPN. www.ccpn.edu.pk
Selection Procedure:
If a cadet marries for any reason during:
The application form supplied with the prospectus complete in all respects should be submitted on or before the last date mentioned in the advertisement published in the press. After receipt, the forms are scrutinized and roll numbers are issued if the candidates are found to be eligible.
The written test is conducted on the date advertised in the press and also intimated individually.
Those who qualify the written test are notified individually and called for interview and medical examination.
Qualifiers in all stages are kept in the merit list. Final selection is done according to their respective quota.
The final call-up letter for joining is then issued and the selected candidates have to join by the joining date (usually end of April).
Change of Address/Phone:
A change of address or phone number must be notified to the College immediately if:
Fee Schedule:
The fee per award is Rs. 50,000/- (This is to be paid in two installments in March and August every year @ 25,000/- each). Cadets appearing in Sem in Main will pay from January to July. This includes:
Fee Details (50,000/- per annum)
Messing charges, tuition fees, text books, stationery, medical and bedding charges
Fees for academic visits, SSC, HSC examinations and registration
Miscellaneous Charges (Hostel, Services, Barber, and Laundry)
Electricity, transport, sports and hobby and registration fee
Also apply here:
Balochistan Residential College Zhob Admission 2023 Entry Test
Cadet College Rawalpindi Admission 2023 Form Test Result
Cadet College Fateh Jang Admission 2023 Test Date Result – Fee Structure
Cadet College Postgraduate Admission 2023 Form Test Date Result
Cadet College Kohat CCK Admission 2023 Application Form
Cadet College Qutable Admission 2023 Form Test Result Fee Structure